It's Versatile
Easy plants are made even easier when they're versatile. And Vintage Jade is just that! Whether used as a mass planting to bring large amounts of impact or as a container planting to spice up a specific area, Vintage Jade shines like no other.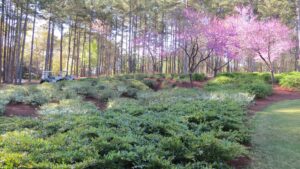 Mass Plantings
The spreading shape and low maintenance of Vintage Jade make it a perfect choice for mass plantings. Mass planting is a design technique where you choose one variety and plant multiple together in one space. This not only simplifies care but provides a bold impact in your landscape. We absolutely love when Vintage Jade is used in mass plantings in a large open space like shown above, as a border to a pathway or garden, or as a hedge. Learn more about how to use mass plantings in your garden design, here.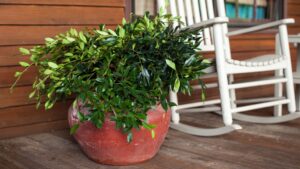 Container Plantings
Vintage Jade also thrives as a container planting. The dark green leaves make it a sight to behold whether it's used on your front entry, back patio, or as some moveable garden interest. Head to our article on using First Editions® in containers for tips on planting and care for container shrubs.
Planting Tip!
Plant your new Vintage Jade in a container and let it grow there for a few years. Then, transplant it into the landscape when it's closer to full size. When that time comes, make sure to watch our video on how to transplant shrubs.