When you spend the time creating a green space that you're proud of, you want to show it off. But some visitors may view those plants as their next meal (we're talking about you, deer!) While it's a treat to welcome wildlife into the backyard, it's much less of a treat when they start snacking on your beloved plantings. Enter deer-resistant plants!
First and foremost, deer-resistant is not deer-proof. Depending on countless factors, any plant can be vulnerable to your neighborhood deer. However, deer-resistant plants are those that deer are much less likely to snack on. Thoughtfully utilizing deer-resistant plants is a great way to keep your garden full all season long. Another important note is that deer resistance is somewhat regional. Check with your local extension office, as they will be able to provide you with the best information regarding regional specifics on deer-resistant plants.
Now, it's time for some inspiration! Here are some of our favorite First Editions® Shrubs & Trees deer-resistant options to inspire your next garden project.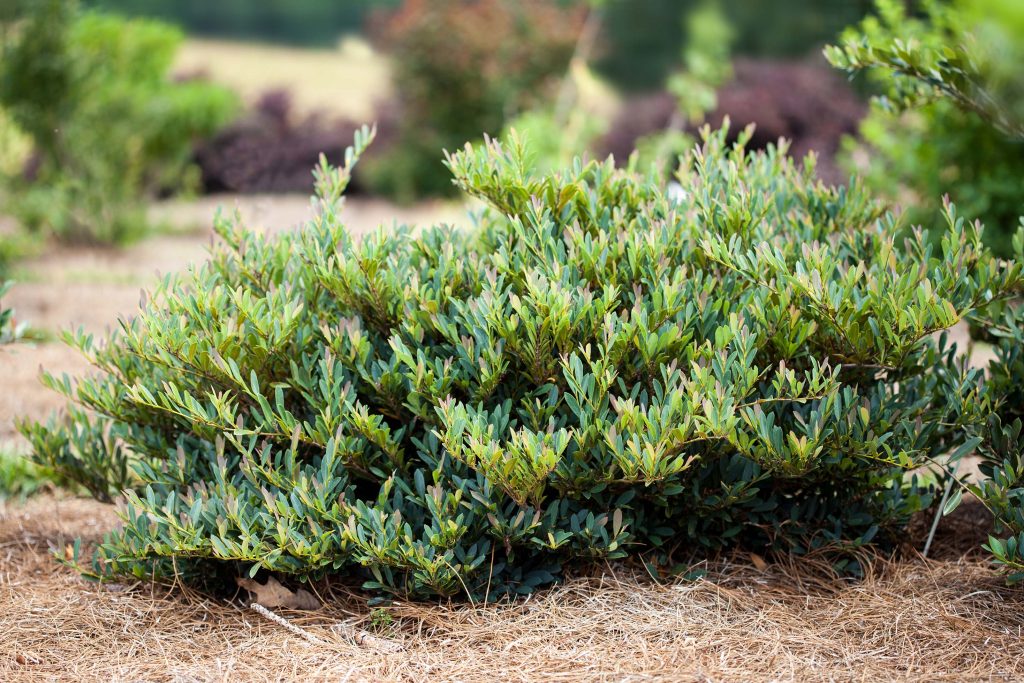 With plum-purple new growth that turns blue-green as the leaves mature, Cinnamon Girl® is an excellent choice for those looking to ramp up their garden interest in zones 7-9. It's just a bonus that it's deer resistant! Cinnamon Girl® has a low growing mass, so try planting it around the perimeter of less-deer resistant plants. Not only will it look great, but it will make it challenging for deer to get through to those inner plants.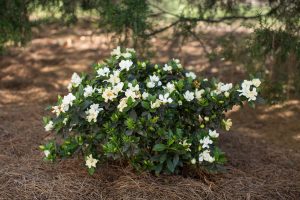 SWEET TEA™ GARDENIA
Gardenia jasminoides 'PIIGA-II' PP27,258
This reblooming double gardenia has tennis ball size flowers with the gardenia fragrance we all know and love. That fragrance is what makes it deer-resistant, as deer tend to stay away from things that are too fragrant. Sweet Tea™ does great in containers, so those in zones 7-9 can use this in their next container planting. If you need some inspiration, check out our video on container gardening with Toscana™ Barberry, another great deer-resistant option.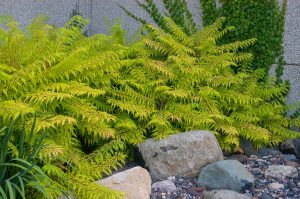 Tiger Eyes® is a great deer-resistant option that provides multi-season interest for those in zones 4-8. In the summer, new growth is a lively chartreuse green that quickly changes to yellow. In the fall, dramatic yellow, orange, and scarlet appear. Tiger Eyes® is a perfect option for mass planting around something less deer-resistant. Its height will keep deer back, protecting the plants within.
If none of those seem like the ideal fit, no worries! First Editions® Shrubs & Trees has tons of superb deer-resistant options that can be found here. Filter by plant type, color, height, width, and zone to find the perfect deer-resistant choice for your green space.
DEER-RESISTANT PLANTS WITH KAREN CHAPMAN
For more inspiration on using deer-resistant plants in your landscape, watch our Garden Gab™ video below with award-winning designer, presenter, and author of Deer-Resistant Design, Karen Chapman. Ryan sat down with Karen to discuss gardening in the Pacific Northwest, plant selection, and garden design for deer-resistance . You won't want to miss their discussion on how to incorporate some of your favorite First Editions® plants into your next garden design!