"Spirea! I've just met a plant named spirea. And suddenly my blandscape turned into a pretty landscape." Ok, maybe Tony in West Side Story was singing about Maria, but us plant nerds can dream, right?
You probably have heard or at least seen spirea (spiraea). Unfortunately, it has a bit of a reputation as the shrub that appears everywhere, so in turn, people tend to lose excitement over this genus. However, here at First Editions Shrubs & Trees, we are big fans of spirea. You might even go so far as to say we are spirea stans.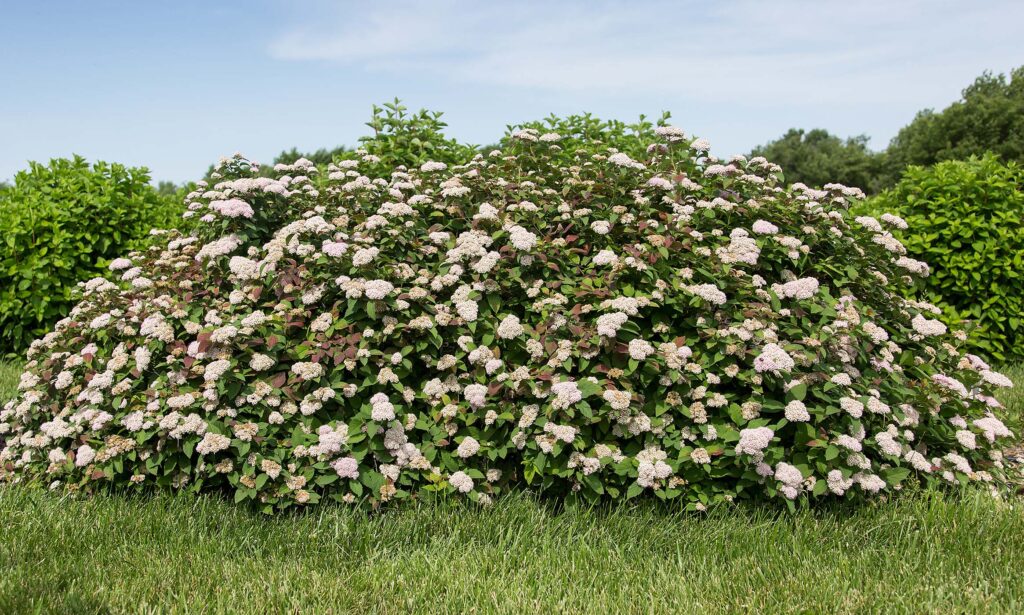 If you're asking, "Well, what's so great about spirea?" You've come to the right place. First, they are hardworking shrubs that can tolerate a lot of sun, are cold hardy, and can even be planted in soil with a higher salinity level. The fact that they are hardworking means they are extremely easy to care for. The quintessential set it and forget it plant for those who want beautiful landscapes but don't want to spend much of their free time in the garden. Second, they provide multiple seasons of interest with bright flowers that bloom all summer long and fall color that is awe-inspiring. Let's break down some of our favorite spirea we know you'll love!
This variety has orange new growth that ages to a beautiful yellow. Unlike other varieties, like 'Goldflame' Spirea that has issues with reversion and grows green stems, Little Spark® holds its color throughout the summer, even when it's hot! In addition, Little Spark® has pink flowers that will rebloom in late summer. Nice and compact at 18-24″ tall and 18-30″ wide, this is a great choice to replace any spirea that are reverting or for planting in an area that needs pops of color.
A lovely compact shrub, Sundrop™ features beautiful pink flowers and petite golden leaves. That gold color won't fade during the hot summer days as it thrives in full sun. Growing 12-15″ tall and 2-3′ wide, this variety is a perfect choice for those looking for a hardworking border shrub in an area that receives lots of sun.
Pink Sparkler™ is a rounded shrub that blooms in early summer with large pink flowers and again in autumn with smaller pink flowers. The leaves turn a great burgundy red, providing some fantastic fall interest. Pink Sparker™ keeps its rounded shape with little to no pruning, reaching 3-4′ tall and wide, making it ideal for planting along a path or walkway.
SUPERSTAR™ SPIREA
SPIRAEA X BUMALDA 'DENISTAR' PP22,432
When searching for bold and bright colors, look no further than Superstar™. This spirea has deep green leaves that turn bronze in the fall. Pink flowers bloom in June and again in August if spent flowers are pruned. Growing to a height of 2-3′ and a width of 3-4′, this compact spirea is great for those who have small landscapes.
SPOT ON™ SPIREA
SPIRAEA X FRITSCHIANA 'JN SELECT J' PP31,995
Spot On™ has beautiful pink flowers that bloom early in June. Late summer rebloom and stunning fall colors in October make this another excellent multi-season interest spirea. Red-spotted leaves add another piece of interest to this variety. Spot On™ reaches a height of 3-4′ and a width of 3-5′, making it a superb choice for those looking to fill a smaller space with some striking colors throughout the year.

FIREGOLD® SPIREA
SPIRAEA X VANHOUTTEI 'LEVGOLD' PP19,308
Lemon-lime leaves and whimsically arched branches filled with white flowers make Firegold® a hard-to-miss, statement spirea. The white flowers bloom in spring, making Firegold® the earliest bloomer of the collection. This variety grows to 4-6′ tall and 5-7′ wide, so it's ideal for any large space that needs an eye-catching piece of interest. Bonus: Firegold® is deer-resistant!
So now do you understand why we think Tony should have been singing about spirea? Head over to our plant section for more information about our spirea collection. You'll be singing their praises in no time!