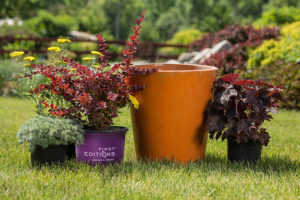 It's so nice spring is here and it's finally time to stop dreaming about gardening and start planting! Have you visited your garden center for ideas? A spring trip to the nursery to see what's flowering and what's new is a great way to be inspired and get started. While there, you might be tempted to pick up a plant full of buds and blooms. Do it! Put it in a pretty container on the front porch and tell the world you are ready for spring. If a cold snap comes your way, it will be easy to bring it inside overnight or for a day or two. As soon as the weather improves, back outside it goes. Once it is finished flowering, your plant can find a permanent home in a landscape bed.
Container gardening is an easy, versatile way of adding a pop of color to a front porch, patio, and outdoor dining area. In the spring for the front porch, First Editions® Centennial Blush Star Magnolia and Rainbow Sensation™ Weigela are great choices. Fiji™ Hibiscus will add a bit of the tropics to a sunny patio during the summer. Do you garden in a colder climate? It isn't a concern with container gardens. You can grow gardenias and crapemyrtles just like your southern friends. If a classical, elegant container is more your style, go with any of the panicle flowering hydrangeas First Editions has to offer.
If you are new to container gardening, visit the First Editions® container gardening page for more tips and tricks. You will find tips for selecting a container, planting, plant selection, watering, and fertilizing.  And, we'd love to see your container garden pictures. Be sure to post them on Instagram and tag them with #firsteditionsplants.