Enter Neon Burst™ dogwood! After a little debate, it was decided to replace the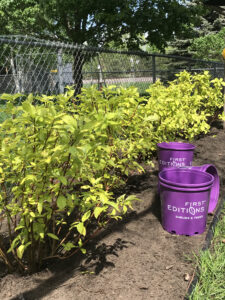 hedge. After 15 years, it was time to try a new look. Neon Burst™ is an excellent choice in this instance for a few reasons. First, look at how the area is brightened up by its soft, chartreuse-yellow foliage compared to the dark green leaves from before. It gives the space that much needed pop of color, and as you view it from afar, it is the perfect accent. Second, Neon Burst™ is super durable and can tolerate a wide range of soils and exposures. Many yellow leaf dogwood struggle in full sun areas. This particular spot can be a little tricky because it receives dappled morning light and then extremely hot afternoon sun.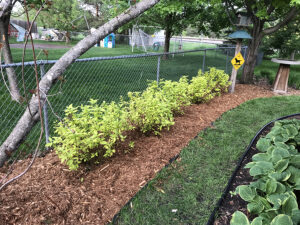 No problem for Neon Burst™! Third, many people forget that plants do not need to bloom all the time to provide color. The summery yellow foliage will make way for brilliant red stems in winter!
This was one of those transformations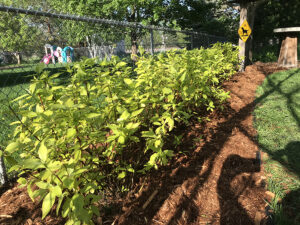 that was easy to do, and didn't require a lot of planning. One hour to pop out those old viburnum and one hour to plant, water, and mulch the new Neon Burst™ hedge. Leaving plenty of time to enjoy one's favorite beverage while enjoying the view!